Digital Mixology
---

Here's a little information about – and demos of – some of the awesome Professional Digital Media Technology we're currently using at AME Studios.
---
Native Instruments' TRAKTOR
Hardware & Software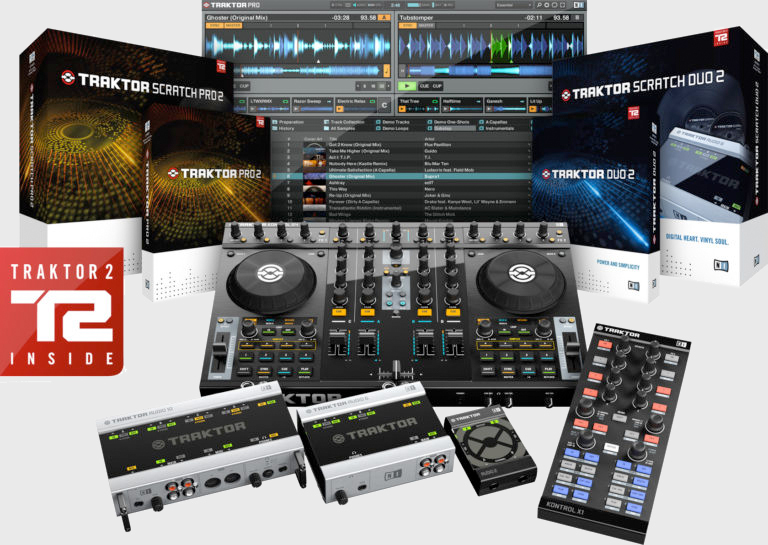 TRAKTOR Pro 2
TRAKTOR Pro 2 is Native Instruments' flagship DJ software, vastly improved from it's predecessor, TRAKTOR DJ Studio 3 (which was discontinued in 2008). This is the premium software monster bundled with Native Instruments' TRAKTOR Kontrol S4 and S2 controllers – superbly integrating key features like remix decks, extensive sync, loop and jump controls, and hi-end mix recording.
Unlike Serato DJ, which has an ongoing list of licensed compatible controllers, and unlike Virtual DJ 8, which needs a specific licence in order to use it with any controller, Traktor Pro 2 works with any controller as long as it's Midi class-compliant, meaning you can make anything (even a guitar synth!) work with it, provided you can map it.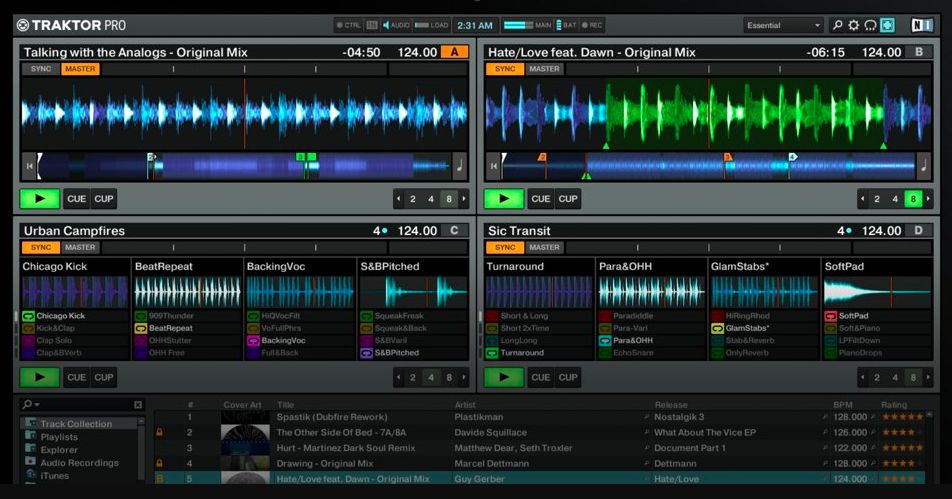 TRAKTOR's grip on the digital DJ world continues to tighten. For a long time, Serato was the only name on DJs lips when it came to timecode control. But in recent years, NI has done a fantastic job of positioning TRAKTOR as an industry standard – not only for House and Techno DJs due to it's rock-solid simplicity – but also for Hip Hop DJs who adopted Serato so extensively.
This was helped in part by their incredibly successful Maschine campaign and just like the MPC advocates have swarmed over its orange pads, Serato has found itself with stiff competition in the form of Traktor Scratch Pro. Now with the SP-6 sampling functions of Serato implemented in Traktor Pro 2 via the Sample Decks, the battle for the booth continues to heat up.
TRAKTOR Signatures Series
From underground heroes to legendary masters, the TRAKTOR SIGNATURES series gives you a behind-the-scenes look at the signature styles and go-to tricks of artists from diverse genres. Learn how they shape their sets with TRAKTOR, get a closer look at their equipment, and see how they stay inspired and relevant in the fast-paced world of DJing and performance.
VIDEO – Traktor Signatures: Audiofly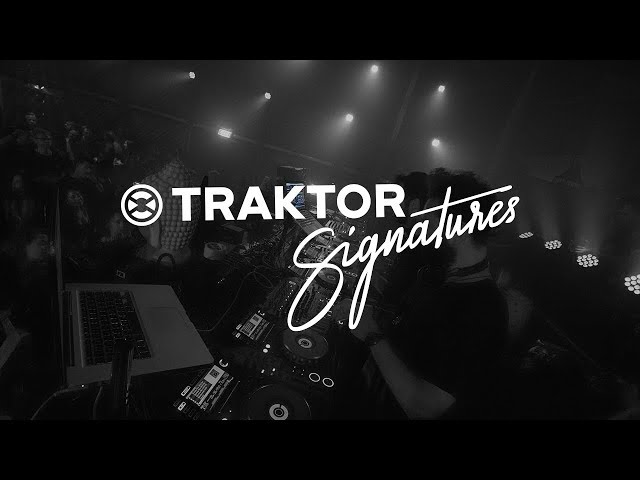 Production and DJ duo, Audiofly, is made up of Anthony Middleton and Luca Saporito. From their Barcelona base, these veteran producers export their distinctive, effortlessly epic and genre-defying brand of house music to the farthest reaches of the global dance music scene, with DJ performances to match. More »
---
Native Instruments TRAKTOR Kontrol S4 MK2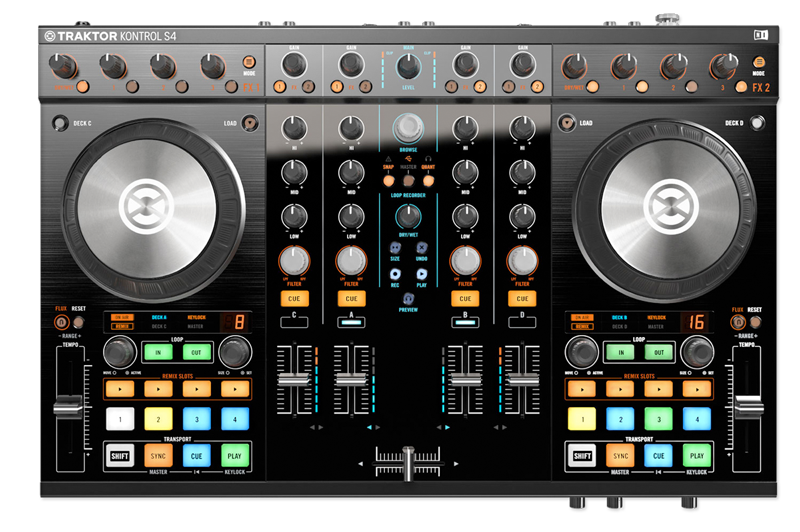 Users of the flagship Kontrol S4 controller will already be at home with TRAKTOR Pro 2. After all, the two main additions to Pro 2 have already seen the light of day in the bespoke version Traktor Pro S4 – namely the Sample Deck and Loop Recorder.
LAB REVIEW
Since its initial release, the TRAKTOR Kontrol S4 has quickly become the standard for high-end DJ controllers. Now in its second iteration, Native Instruments has kept the core functionality and upgraded the hardware and build quality (particularly in the most-used components: the jog wheels, crossfader, and cue buttons). Native Instruments has also added compatibility with its two more recent innovations (TRAKTOR DJ app and Flux Mode).
The S4 emulates a super-deluxe traditional DJ setup: 4 channel mixer, 4 deck control, high quality jog wheels (like a CDJ), numerous control knobs, color-coded trigger buttons, and a perfected, intuitive design. In addition, the S4 has the strong advantage over its counterparts in that it was designed in harmony with TRAKTOR Pro (included), for a superior integration of hardware and software (aka user-friendliness).
In addition to its impressive base features, the S4 delivers the high-end extras including dual effects units, a loop recorder (which can be used as a 5th channel), and a high quality 24/96khz audio interface with the same quality and design as their award-winning sound cards. The interface also allows you to easily integrate external turntables, MIDI instruments, microphones, etc. into your set. Lastly, Native Instruments did not skimp on the important sound hardware details such as high-end AD/DA converters (audio to digital conversion), hi-gain balanced 1/4″ TRS outputs (better sound quality than RCAs) and an ultra-wide frequency response (your high-low output).
AME Studios highly recommends the Native Instruments TRAKTOR S4 MK2 for all levels of DJing, all genres of music.
---
VIDEO – Working With TRAKTOR Stems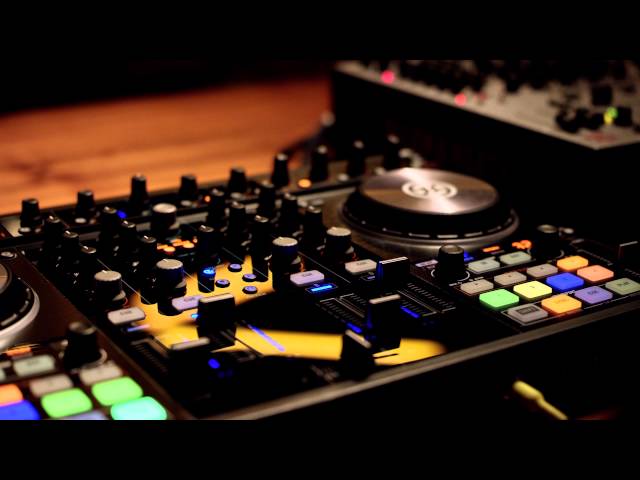 ---
TECH SPECS
Built-in high-end 24-bit/96kHz low-latency audio interface with Cirrus Logic AD/DA converters and MIDI I/O
2 analog RCA inputs with phono and mic preamps for hooking up turntables, CD players or external audio gear; RCA mic in, balanced 1/4″ TRS and unbalanced RCA master out
Supported file formats: MP3, WAV, AIFF, Audio-CD, FLAC, Ogg Vorbis, non-DRM WMA (Windows), non-DRM AAC
19.7″ x 13.3″ x 2.8″ / 50 x 33.8 x 7.2 cm
7.5 lbs / 3.4 kg
---
Share!