DJ Press Bio
Dale "Deej" Lafayette began his lifelong affair with music as a kid living in the East Oakland projects in the 1960's, collecting 78s and 45s and listening to radio stations KFRC, KDIA, KSOL and KRE. Then came 8-tracks, cassettes, and eventually, CDs. "I was fanatical about growing my collection…" he recalls.
In those early years, while developing his artistic skills in a variety of areas, Deej continued add  to his growing collection. Throughout the 1970s, he pursued a variety of well-known music styles and emerging genres.
"I became a kind of "Bedroom DJ" (if you can say that about a guy playing music way too loud in his studio apartment) and loved mixing a variety of music. I might throw down some Miles Davis and Return To Forever next to The Zombies and Led Zeppelin with a little JB, George Clinton or Sugarhill Gang sprinkled in. I was giddy with this stuff and started making crazy-ass mix tapes."
This sort of reckless musical cross-contamination became a kind of soundtrack for years of creative adventures in art, graphic design and publishing. To make money with his love of the creative process, Deej opened Signs & Graphics in 1980, a small art studio next to Berkeley's People's Park, and his work could soon be found all over the SF Bay Area.
In 1990 Deej was approached to manage, and eventually take over, a northern California club scene newspaper, Karaoke USA. Deej re-tooled the newspaper and went national. The result was the award-winning quarterly music trade magazine Karaoke & DJ USA – whose growing staff of editors and contributors included noted author, music authority, DJ and karaoke virtuoso, Ben Fong-Torres, and music journalist/DJ Eric Arnold.
Deej took a needed break from publishing in 1998 to indulge his lifelong musical aspiration of cultivating a career as a popular Bay Area DJ and entertainer — regularly booking gigs at some of the most sought-after parties, events and venues in Northern California.
"My DJ style became one of flexibility and creative unpredictability, but always with a focus on keeping toes tapping and bodies on the dance floor. I love old school. If the crowd was mature, I'd go with a lot of period classics, with a few rare tracks and a current hit or two thrown in. If it was a younger gathering, who knows? A lot of mixing it up with a variety of edm, current and classic hits, obscure jazz, funk and hip-hop, and creative segues. Gotta love it!"
In 2001, Deej (as DJ Dale Lafayette) released a debut album online. Entitled "Adventures Of A Digital Pirate" (borrowing from Lenny White's 'Adventures Of Astral Pirates'), it features a nonsensical mixmash of various beats, samples and concepts, and alludes to the fact that no music genre, track or sound is safe from a hungry DJ.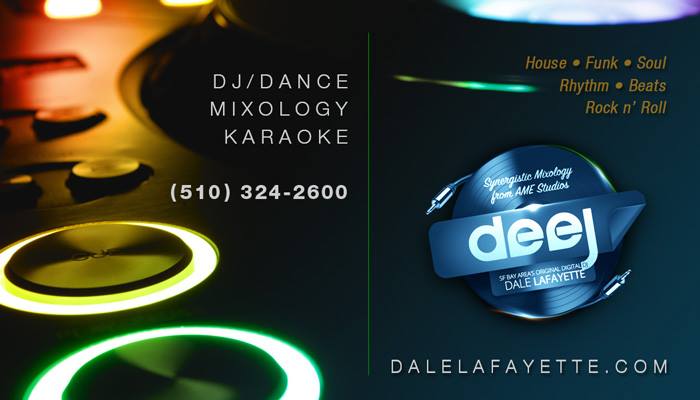 As of 2018, "The Deej" shows no signs of slowing down. "I'm like a kid in a candy store with my ever expanding home-studio setup, and I'm incredibly lucky to have been a part of those early discussions with Pioneer and other key industry manufacturers while a music trade magazine publisher, advocating for exactly what we are witnessing now with emerging new production and performance technologies."
Deej says what "blows his mind" is that, with all the transitions in music since watching Elvis on the Ed Sullivan Show and buying his first James Brown single (I Got The Feelin' – 1968), "It's still all about that funky, blood-pumping rhythm. The DJ has become the cultural music icon of our time…" and he points out that today's DJ stars are pulling in millions around the world. "Man, is it just me, or are there angels singing? Turns out DJs not only save lives: we even brought vinyl back from the proverbial grave."
Deej  continues to explore his brand of "Digital Mixology" at his home studio in Northern California, does select live gigs, and plans a series of Video Broadcasts in the near future.
---