Finally, along with my long-sought copy of the original printing of Synergetics by Bucky Fuller (thanks to an exhaustive search by Cody's Books of Berkeley on my behalf back in the day), I have reacquired my original copy of The Urantia Book – a book that I was also fascinated with in the 1970's. The obscure origins of this over 2000 page tome is a mystery in itself, and what it contains has long been a source of inspiration for many of our cultural icons.
---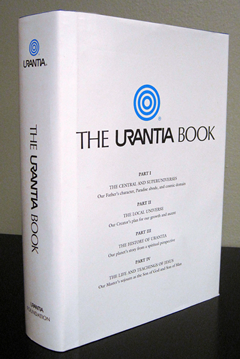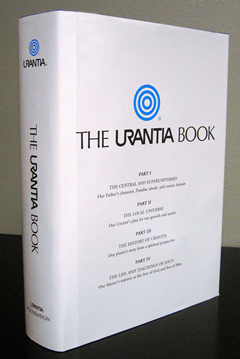 "
The Urantia Book
(sometimes called the Urantia Papers or The Fifth Epochal Revelation) is a spiritual and philosophical book that originated in Chicago sometime between 1924 and 1955. The authorship remains a matter of speculation.
The authors introduce the word 'Urantia' as the name of the planet Earth and state that their intent is to 'present enlarged concepts and advanced truth.' The book aims to unite religion, science and philosophy, and its enormous amount of material about science is unique among literature claimed to be presented by celestial beings. Among other topics, the book discusses the origin and meaning of life, mankind's place in the universe, the relationship between God and people, and the life of Jesus. It has been described as 'a rich and complex moral narrative, equal parts Tolkien and St. Paul.'
Karlheinz Stockhausen based his seven-opera cycle Licht on the cosmology of The Urantia Book.
Stevie Ray Vaughan (1954–1990), American blues-rock guitarist: Stevie often brought along the book of Urantia and read Lindi passages from the strange publication.
Jimi Hendrix (1942-1970) Jimi also had with him the Book of Urantia, an alternative Bible…. Jimi carried this book with him everywhere–along with his Bob Dylan songbook–and told friends: He had learned much from its pages.
The group Spirit recorded a song named Urantia, written by Randy California and Ed Cassidy, on their 1975 album, Spirit of '76.
Jaco Pastorius wrote a song that appears on Weather Report's album, Heavy Weather, named Havona.
In the book Six Feet Under: Better Living through Death, an in-universe companion piece to the television series Six Feet Under, The Urantia Book is highlighted in a past correspondence held by one of the main characters.
In the 1983 book Angels by Denis Johnson, one character carries around The Urantia Book and proselytizes to drug addicts.
The song Mansion World by rock band Deadsy is inspired by The Urantia Book and refers to various parts of its contents, including explicit mentions of Urantia.
Musician Pato Banton is quoted: The Urantia Book has played a major role in my life…
Jerry Garcia was a reader of The Urantia Book and said it was: One of my favorite esoteric works.
Kerry Livgren is quoted: In 1977, I discovered a book that convinced me I had reached the end of my quest. It was called The Urantia Book….
For more information: www.urantia.org
---